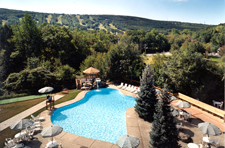 When people ask me what they can do when they come to the Chateau, there's always a long list for me to go through. But I always try to make sure that people interested in spending time in the Pocono Mountains know just how special our location is.

If you know the area, you're familiar with the majestic beauty of Camelback Mountain. It's one of the wonders of the region, and we're right at the base. There's probably not a more scenic backdrop for your visit. If you haven't visited the Pocono Mountains, you could not choose a better "home base" for your activities and your adventures. We're adjacent to Camelback Ski Area, Camelbeach Water Park, and Camelback Adventures.

Shopping at the Crossings Premium Outlets and trying your luck at the Mount Airy Casino... just a short drive. So is championship golf, whitewater rafting, and more adventures for you and your family.