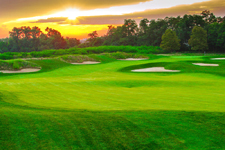 Regents' Glen features a wonderful Arthur Hills Golf Course, which Art himself calls, "Visually the finest I have ever done." Our player-friendly bentgrass layout summons the shot-making skills of all handicappers. Each hole has its own unique personality while consistently offering a variety of risk-reward strategies to challenge golfers of all skill levels.
A nominee for Golf Digest's best new private course for 1999, Regents' Glen offers state-of-the-art irrigation and golf course maintenance techniques to assure the finest conditioned course you will ever play. Warm up on our magnificent eight-acre practice facility, which includes a three-level bentgrass tee, four target greens, a short game area with practice bunkers, and a 9,000 square foot putting green.
Outstanding service and the ambiance of a pure golf atmosphere awaits you at Regents' Glen, along with the opportunity to play a premier private club.