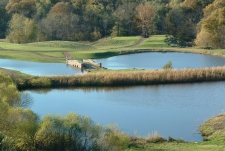 The Links at Gettysburg - Golf's "Gettysburg Address" - has established itself as a premier golf destination. If you are going to play golf in the Mid-Atlantic, The Links is a must-stop on your itinerary. Golf Digest elevated The Links to its prestigious "4 ½ Stars" ranking among its "Best Places to Play" for 2008-2009, one of only 30 courses in the Maryland/Pennsylvania area.

The Links has previously hosted the Duramed FUTURES Tour for professional women's golfers and The Golf Channel Amateur Tour will return to The Links for an 11th time in 2019. The Links, featuring its trademark red-rock cliffs, immaculate fairways, swift greens and 14 lakes and streams, offers 5 sets of tees for a "round to remember" for all handicaps. This 7,069-yard championship layout offers a complete pro shop and outdoor grille/patio and The Links Premier Clubhouse.

Golf Channel Tour again in 2011-2018
Make-A-Wish Foundation Tournament with LPGA Hall of Famer Nancy Lopez played The Links At Gettysburg and loved her visit. "Enjoyed it, challenging layout," said the LPGA Hall of Famer, who played her round at The Links with husband and former Major League Star Ray Knight and sportscaster Johnny Holliday.

The Links At Gettysburg's reputation continues to grow and golfers around the country are finding out this is one fast track that lives up to its press. Besides presenting prestigious charity fund-raising golf tournaments like Gettysburg Hospital. The Links specializes in corporate and convention golf outings. The Golf Channel Amateur Golf Tour selected The Links for one of its stops again in 2019.

This championship style golf course features a pro shop and outdoor grill/patio, features steep, 35' rock cliffs, stone-lined tee boxes, lakes, and waterfalls offering a great round of golf for all levels of ability. The facility is also a perfect setting for a wedding, banquet, or special event. The Premier Clubhouse accommodates up to 225 guests; a triple-tier brick patio, overlooking the 11th, 12th and 18th greens accommodates 275.