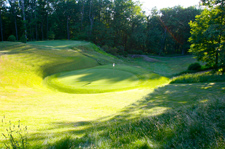 The East Course at Pocono Manor was designed by the renowned architect, Donald Ross. For nearly a century, golfers have enjoyed this gently sloped, scenic course. Its famous par threes, holes 3 & 7, the grass bunkers unique to a Ross designed course and its challenging small greens, golfers of all levels can enjoy a memorable golfing experience.

The East Course has earned a deep golf tradition of attracting business executives, politicians and professional golfers since the 1920's. In the 1950's, Masters' Champion, Art Wall Jr. was Pocono Manor's touring professional. Several television shows such as All Star Golf with Sam Snead, Tommy Bolt & Jimmy Demaret were filmed on this course and can still be seen on the Golf Channel. In 1961, Wall and Arnold Palmer chose our East course for an exhibition which brought thousands of spectators. In the 80's and 90', the course also boasts holding the Senior PGA Tour Pro-Ams.

The East course is a unique, adventurous layout and will provide all our guests a truly wonderful day of golf.